The Indiana Masonic Home
HOME is where the HEART is

The Indiana Masonic Home, Inc. (IMH) is a licensed continuing care retirement community (CCRC) located in Franklin, Indiana. IMH offers a continuum of opportunities and services ranging from totally private, fully independent arrangements to assisted living, to skilled nursing care all on one campus. IMH has provided for eligible residents since 1916. We hope you'll spend a few minutes here to learn more about what IMH offers. Please feel free to e-mail us or contact us at 1-888-464-6077 (1-888-IMH-6077).
---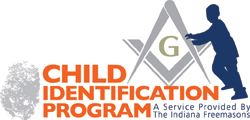 Child ID Program
Indiana Freemasons and DeMolay Present Child ID Program


A parent's worst nightmare is the disappearance of a child. To give families a measure of protection against this ever increasing problem, the Grand Lodge of Indiana and Indiana DeMolay are proud to introduce the Child Identification Program to the state of Indiana.

Based on a very successful program started by the Grand Lodge of Massachusetts, the Indiana Freemasons Child Identification Program addresses the alarming fact that over 1,000,000 children are reported missing in the United States each year. Sadly, the abduction of children is both under-reported and rapidly increasing in our society. While most are found, many are not.

The Indiana Freemasons' Child ID Program is the most comprehensive child identification program currently available to our communities. Child ID Program helps concerned parents to promote the safety of their children by providing a fast, simple packet of information to help authorities identify and recover lost, missing or exploited kids.

The program consists of a brief interview with the child that is recorded on a video cassette to show his or her mannerisms and speech patterns. The child's fingerprints are taken, and a DNA sample is made by swabbing the inside of the child's mouth. All identifying materials are given to the parent or guardian once the child has been processed.

No materials or private information is retained by the Freemasons or any law enforcement agency. The program is free and no appointment is necessary.

Indiana Lodges are encouraged to find ways to appear at local fairs, carnivals or events. Local schools may also be interested in hosting the program. Lodges may group together to share costs and volunteers, and local law enforcement agencies have been historically supportive of these events.

If you would like a little more information on process and how simple it can be to hosts a Child ID please contact Carey Carter at questions@4chip.com
---
Scholarships


Overview & Eligability

The Indiana Freemasons are dedicated to supporting post-secondary education for their members and families. Our scholarship fund was created to help those who have a need based request first and foremost. Please help us to support this very important program by considering and donating to this very impotant initiative. Contribute

"If a man empties his purse into his head, no one can take it from him."

Benjamin Franklin

Eligability & Qualification Guidelines

Applications will be accepted from Master Masons, or the sons, daughters, adopted sons or daughters, stepsons or stepdaughters of a Master Mason in good standing in his Indiana Lodge, or from the orphaned child of a deceased Master Mason who departed this life in good standing holding membership in a Lodge in the State; and,


has been accepted for enrollment as an undergraduate in the accredited colleges and universities of Indiana whose names appear on the list attached.

Applications must be submitted before the 25th birthday. Exceptions will be granted when justified; and,

Applicants must enroll and maintain a full time status as defined by the institution attended; and,

Need, demonstrated leadership ability, community service, academic standing, and moral character will be considered; and,

GPA, ACT, SAT and equivalent test scores will be considered by the Region Directors and the Board; and,

Applicants should return papers to the Sponsor's Lodge no later than March 1st. A fully completed application with required attachments and certification MUST be delivered by the Lodge to the Regional Director no earlier than February 1st nor later than March 8th to be considered.
Note: It is our desire to aid as many students as possible, therefore, we will give priority to those who are first or second time appliers. Except in extraordinary circumstances, an individual student will not receive more than two years of scholarship support. Only one scholarship will be awarded per applicant per year. If the applicant is a Master Mason or the Masonic sponsor is the father the applicant is eligible for the Searight Scholarship Funds. Stepchildren will be considered for our Grand Lodge Scholarship Funds. The need to comply with the procedures outlined is most important. An incomplete application will result in the disqualification of what may be a most deserving applicant.
Administration and Procedure
An application and financial statement form can be obtained only from an Indiana Lodge or at: WWW.IGLSB.ORG

A full completed application executed by the applicant and the Masonic sponsor must be delivered to the applicant's father's Lodge for certification and approval. The financial statement may be delivered to the lodge in a sealed envelope if so desired. However, no application without certification or without a financial statement in the possession of the Region Director will be considered by him.

After certification by the Lodge, the application is forwarded to the proper Region Director for processing and recommendation. Region is determined by sponsor's lodge location. Names and addresses of Region Directors, together with a map delineating each region's boundaries is attached for information.

The Region Director and his committee will study each application, make recommendations and forward the applications to the Scholarship Board by March 15th.

The Scholarship Board will determine those who will receive scholarships at its annual spring meeting and promptly notify Lodges and applicants of the Boards' decision.

Certificates for the award will be mailed to the Lodge for presentation. Checks will be available at the reception.

Failure to attend one of the accredited college or universities listed will result in the revocation of the Scholarship and will require repayment of all monies awarded.
Download Forms